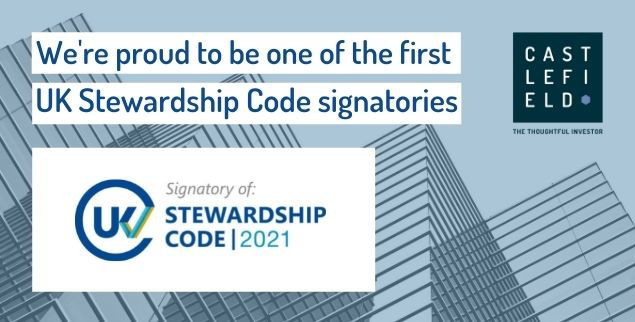 Castlefield has successfully joined a limited number of responsible asset managers and asset owners to become signatories of the Financial Reporting Council's (FRC) UK Stewardship Code.
As UK Stewardship Code signatories, active engagement and openly reporting on activities are incredibly important to us. This latest quarterly report includes our latest voting and examples of our ESG engagement activity:
https://www.castlefield.com/media/3438/castlefield-stewardship-report-q3-2021.pdf
UK Stewardship Code Signatories
The UK Stewardship Code 2020 sets high stewardship standards for asset owners and asset managers, and is built around 12 principles of effective stewardship, with a greater emphasis placed on transparency standards around stewardship activities than the 2012 code it replaced.
The FRC updated the code in 2020 to better account for the changes the investment market has gone through since the publication of the first code in 2012.
Increased priority has been placed on environmental and social factors, to acknowledge that ESG issues have become materially important for many investors. Asset managers and owners are also required to create and publish a report on the outcomes and specific stewardship activities over a 12 month period.
)