Predict the unpredictable
As we approach the end of the year, the constantly changing geopolitical backdrop has created a lot of noise and resultant volatility in markets. Investors can be forgiven for thinking that now might be a great time to be a journalist, but perhaps a rather less rewarding time to be a return-seeking investor.
As long-term investors however, we see things a little differently. The turmoil in markets has actually created a lot of opportunity – the real skill is to be able to pick out the crucial trends, articulate that into an investment strategy, and execute it with confidence.
The Year to Date performance of these four equity indices and UK CPI+3% shows, at first glance, that performance has been extraordinarily volatile. There remains, however, an upwards trend and economic activity has carried on despite Brexit turbulence and other political uncertainties. We don't fear for the future of Sterling and UK equities as much as the headlines do. When you look at the global picture for markets, the UK appears historically undervalued and ripe with opportunity.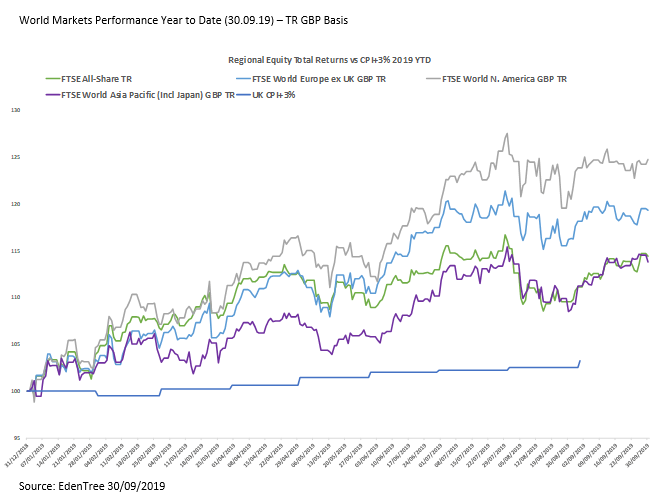 what if Brexit means Brexit?
With the UK scheduled to leave the European Union (EU) on the 31st October, what comes next will depend on whether the UK is able to formulate a clean break, or whether World Trade Organisation (WTO) rules will be enacted. Regardless of either outcome, the chances are that interest rates will remain lower for longer.
We recognise that a potential restriction on the EU's 'Freedom of Movement' following Brexit is a notable risk in the short-to-medium term, particularly across a number of sectors in the UK that are highly dependent on non-domestic labour. Healthcare, Construction and Retail could be particularly affected by an impingement on their labour force.
Deal or No Deal?
For us as fund managers, a no-deal Brexit is likely the worst case scenario. Such an outcome would increase uncertainty generally, but also lower capital expenditure and increase costs for businesses.
A no-deal situation would therefore be challenging for any UK investor. In the short-term you could anticipate a further weakening of Sterling, which ordinarily might lead then inversely to increase the price of internationally orientated UK equities, such as the FTSE 100 which derives the majority of its earnings from overseas. However, an outcome of this extreme could also incur a short-term sell-off in UK equity markets. Therefore the importance of a diversified portfolio across different geographies and sectors remains acute.
In the long term, as we said earlier, the UK market has rarely been so well priced relative to other developed markets. Further devaluation could, in theory, present a once in a generation investment opportunity.
UK Fixed Interest
Investment strategies for most of the UK charities we meet are all about generating income from fixed income assets, in order to fulfil that charities mission in the short, medium or long-term. Before the Global Financial Crisis, investors were seeing a return of up to 6% on cash, so it made sense to hold some reserves un-invested. Fast forward to the present day and we are seeing negative interest rates in almost every country around the world, except for the UK and the US.
The challenge is, at a time where equity markets are volatile, cash is giving you little to nothing and bonds are giving you negative growth, how do you attract 5-6% a year on your fixed income assets without taking too much risk? We see the opportunity within niche areas of fixed interest, for example Preference Shares or Permanent Interest Baring Shares (PIBS) where you can still access pockets of high-yield.
As long-term investors however, we see things a little differently. The turmoil in markets has actually created a lot of opportunity – the real skill is to be able to pick out the crucial trends, articulate that into an investment strategy, and execute it with confidence.
UK Equities
Whilst there is risk attached to them, our view is that equities remain the highest quality asset for a long-term investor. An allocation to equities makes logical sense given the negative interest rates and low inflation which is impacting fixed interest.
Within UK equities, we are looking at stock specific, structural growth cases; companies which have an impact on society, which should grow and continue to grow. In our long term portfolios for charities we are more invested in equities than we ever have been but we still have exposure to bonds. Diversification, as always, remains key.
International Markets
The picture for international markets has deteriorated over the last six months. Economic growth is now at its slowest since the Eurozone crisis. This is primarily due to political uncertainty, not only here in the UK but also in Spain and Italy. The ongoing US- China trade war is also creating uncertainty, causing lower trade volumes which in turn is starting to impact on economic growth and business sentiment.
Fortunately for global equity markets, this hasn't been a hugely detrimental factor because we've had a prolonged period of ultra-accommodative monetary policy from global central banks. At EdenTree, we are starting to base our forecasts on slowing economic momentum for at least the next six months. What happens after that is shrouded in uncertainty still.
We do have a potential resolution between the US and China, which Trump may want to promote as 'finalised' as he enters into his re-election campaign, although these discussions have covered a fraction of what needs to be resolved. We also have scheduled tariff hikes scheduled for the 15th December, which could bear huge economic consequences. However, we do have the potential for fiscal stimulus to kick in, which is why we predict either an upside or downside after the next six months.
The US still remains one of the most robust regions economically, within developed markets. For 2019 we are forecasting around 2% growth, slowing to around 1.5% in 2020. For China, growth is still quite robust at 6%, reducing to 5.5 % in 2020. However, that is not factoring in any further monetary or fiscal stimulus.
Within Europe, we are looking at around 1% growth this year. This will likely stagnate at 1% next year, due to fiscal stimulus.
Cutting through the Noise
Every situation, whether it's Brexit, Trump, global trade or European elections, remains very fluid. Politicians now have more access to the electorate than they ever have before, because of social media. Combined with the 24-hour news cycle, we are hearing more market noise than we ever have before. In turn, this drives volatility and short-term market moves.
We will see resolutions eventually, but for the time being markets will continue to move sideways. For us as long-term investors, this is yet another opportunity to look beyond the noise and find compelling opportunities at attractive valuations.
)