At the start of this year we wrote a blog on why charity investors should adopt a global approach in order to achieve responsible income and growth. Six months on the thesis still stands, proven by the ongoing strong performance of our Amity Global Equity Fund for Charities, run by Ketan Patel, and increased concentration risk among UK dividend payers, many of which fail on ESG grounds.
Over 5 years, the Amity Global Equity Fund for Charities is 1st quartile amongst peer global equity income funds, with the Fund ranked 8/88 and Ketan ranked 3/67 (Citywire, July 2021). We hope this gives our charity clients comfort that you needn't sacrifice returns for a responsible and sustainable approach, given the competitor funds in this peer group are not all screened. The Fund has avoided highly volatile parts of the market such as the FAANGs (Facebook, Apple, Amazon, Netflix, Google) due to heightened valuation and excess volatility, choosing to focus on global quality businesses that have delivered long-term returns to shareholders.
With his top quartile fund, the Amity Global Equity Fund for Charities, Ketan divides his income stock picking into three categories (as shown below). Firstly, businesses that are long-term compounders growing dividends by c.1-3%. Secondly, defensive growth and high yield companies that can grow regardless of macro tensions, paying north of 4% in income. Thirdly, growth and tactical stocks, which often pay a lower level of income, but are able to deliver more than 10-15% of dividend growth.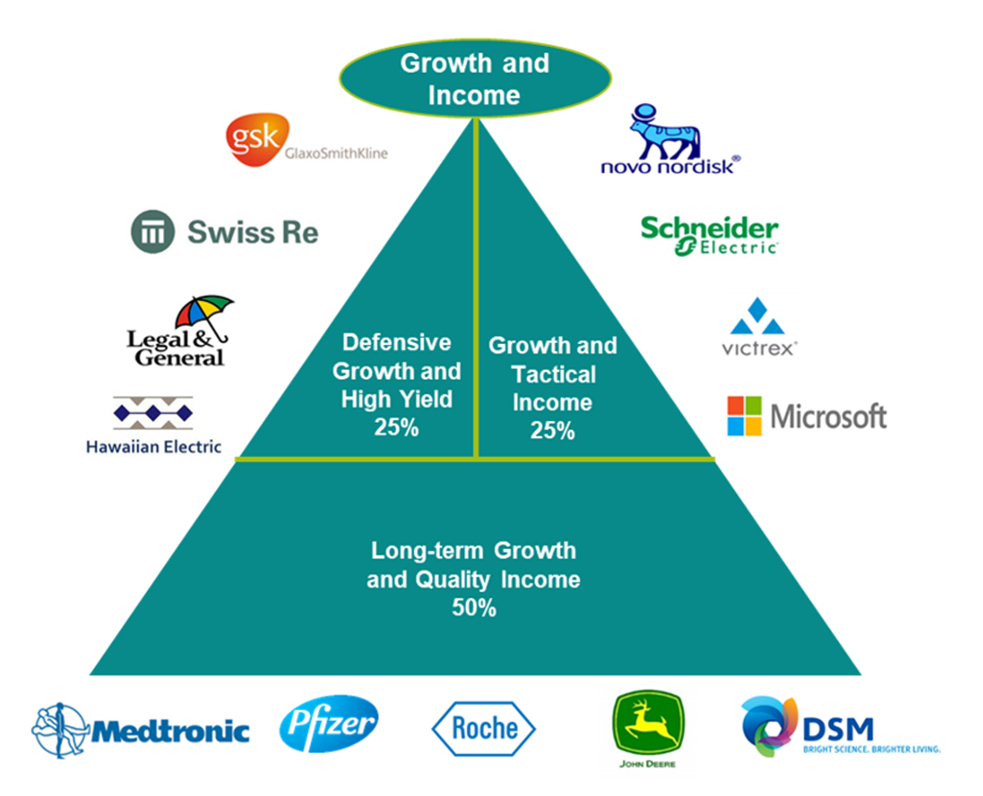 In addition, investors who have favoured a home bias in the UK have had a sobering experience when it comes to investment returns. The UK has traditionally led on dividends, but in recent years the level of concentration risk has come to the fore with over 60% of the total dividends paid out annually by UK companies attributed to just 15 large companies. The majority of these companies are not suitable for responsible and sustainable investors who do not want exposure to the likes of tobacco, fossil fuels or alcohol in their portfolios (as shown below). As a result, EdenTree advocate a global approach which allows for not only diversification, but also an enlarged investment universe. This enhanced opportunity set is where the opportunities lie for responsible and sustainable investors who favour a long-term time horizon coupled with investing in quality businesses.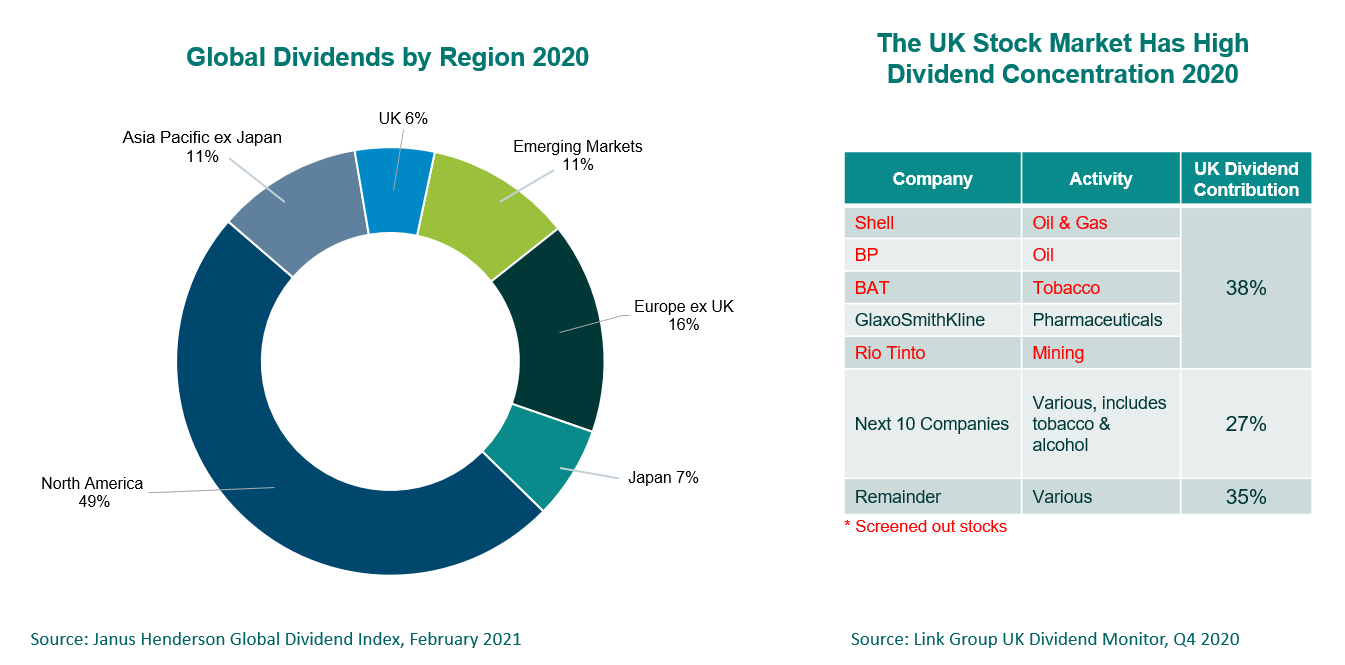 For more information on EdenTree's Amity Global Equity Fund for Charities please click here or contact our charities team: [email protected].
)